When it comes to choosing large steel buildings and garages, our distributors can offer you a design service with our advanced quoting system.
With clear spans up to 35 metres and standard wall heights to 7 metres Fair Dinkum Sheds can design a cost effective factory unit, warehouse or large shed to suit your requirements.
All buildings come fully engineered and certified to Australian standards ensuring your peace of mind regarding structural integrity.
Foundation systems can also be customised to suit your specific needs.
Commercial storage units
Many Fair Dinkum shed distributors have sold numerous buildings for storage shed applications.
Using internal walls to provide extra support, it is possible to reduce the size of the main sections reducing the overall cost of the structure.
Adding extra length and access is no problem and allows you to customize and design the perfect garage for your needs.
Additional bays and length can be added in the future, making your design flexible and cash flow friendly.
Industrial building with large openings
With industrial roller doors height is no longer an issue allowing for higher storage or large vehicles.
Mezzanine floors can be installed to further increase storage of components and parts etc.
Roof ventilation and insulation can be installed to maintain the level of required comfort.
Industrial shed with office
Need to add an office to your industrial or commercial building? The bay design of our structures makes this addition very simple to achieve.
Additional roller doors can be added at a later date.
Colorbond colours can be chosen to fit in seamlessly with almost any surrounding.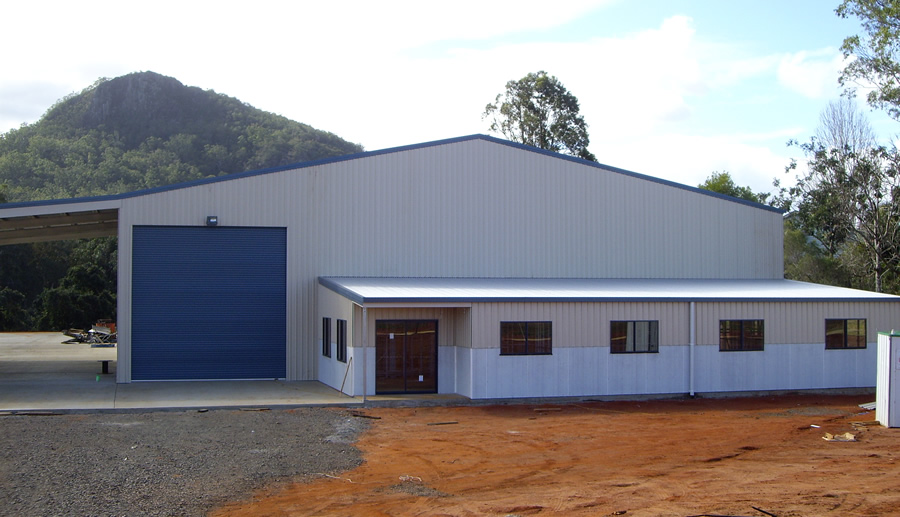 Industrial units
Use many Fair Dinkum Sheds to lease out space to clients.
Sliding glass doors can be added to any factory unit to improve the first impressions of prospective clients.
Detailed instructions and specifications will aid heavily during the construction phase.
Internal view of industrial building
The addition of a lean-to to a Fair Dinkum commercial building allows for effective partitioning and greater overall span when required.
Skylights are an effective means to add natural light and reduce power consumption in your factory or storage unit.
Bays can simply be added in the future allowing for more space when required.
Internal view of industrial building
Portal frame construction has stood the test of time and will continue to do so long into the future.
Clear Span allows for obvious advantages including huge amounts of usable space.
Galvanized steel provides for excellent longevity and great aesthetics, no painting required.