American Barns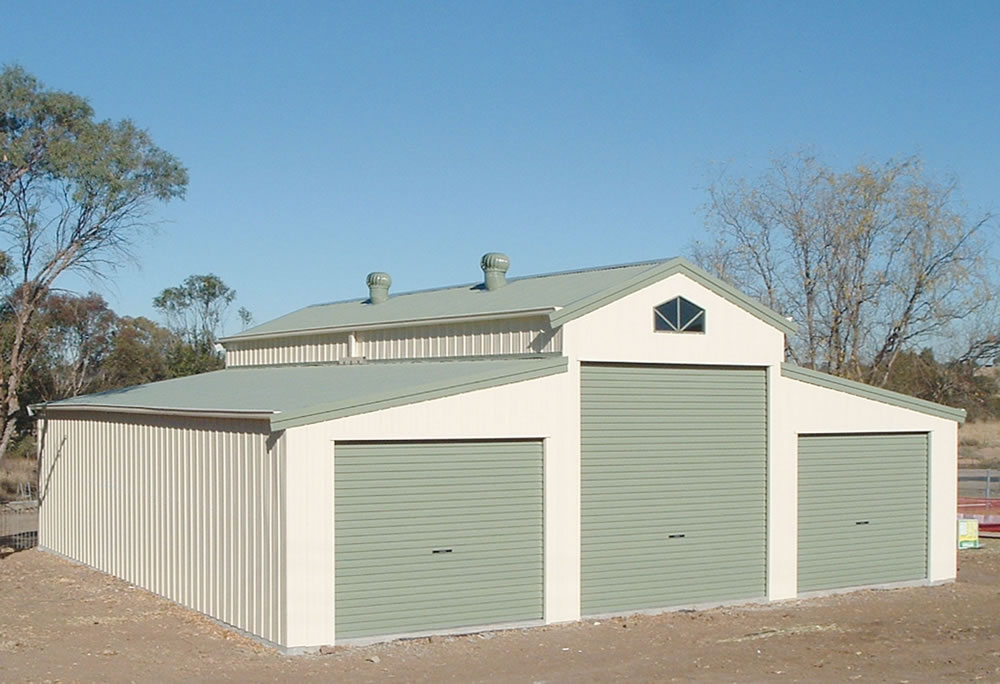 For an affordable solution to style, look no further than the American Barn. American Barns can be used for many applications including car garages, boat sheds, workshops, housing caravans, horse stables, storage rooms and games rooms to name a few. The list is endless.
Widths start at 9m. Both length and width can expand to suit your application. Heights for either the side leantos or middle section can also be changed.
The standard roof pitch for the American Barns is 22` but a mansard roof also looks great.
You can easily personalise your barn with windows and glass sliding doors. We can even supply fly screens and security screens or window locks.
American Barn with 3 Roller Doors
Cost effective stylish 3 car garage. The smaller individual member spans = smaller overall price per square metre of floor space.
Allows for parking of tall boats, caravans, trucks or farm equipment.
Tall middle section allows for the easy addition of a mezzanine floor for storage or additional accommodation.
American Barn with Garaport
Turn an American Barn into your unique accommodation option.
Perfect for a holiday house to get away from it all.
Customize window and door placement to suit your desired layout.
Add a balcony for the perfect entertainment area, or to relax after hours.
American Barn with Mansard Roof
After something unique? Well you can't go past this type of design.
Change the style of roof to suit the way you want your shed to look.
Mansard roof increases headroom in centre section.
Add a second level by easily inserting a mezzanine floor to the centre section.
Mezzanine floor can be added at any later stage, allowing you to get what you need now and expand as required.
Horizontal Cladding can also make your shed blend in to your surroundings.
Large Stable Options
American Barns provide the ideal stable type solution for all your equine needs.
Bay structure allows for easy customized fit outs for stabling.
Tall centre section can accommodate tall roller doors allowing easy access for horse floats.
Parapet wall allows for insertion of windows to increase natural light.
Ventilation can be added to ensure the comfort of you and your animals.
Split American Barn
Only want one lean-to? Take one away. Our computer software allows for almost limitless customisation.
Opening options include the addition of any type of door anywhere on the structure.
Start developing that holiday block today.
Additional lean-to can be added at a later date to suit your current and future needs.
The Original American Barn
Full range of Colorbond colours available allowing you to improve the style of your property.
Add more roller doors at a later date as you require.
American Barn designs offer large amounts of usable space including the additional head and side room.