Farm Sheds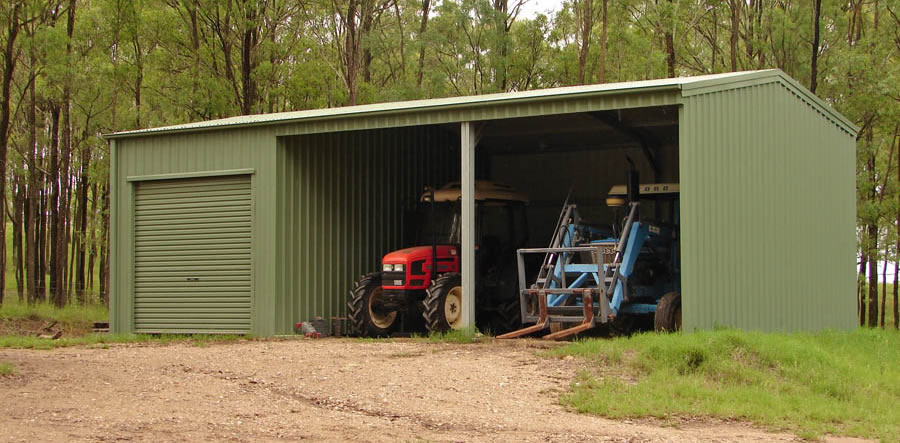 Farm sheds are available in a vast range of sizes to meet your specific needs. Whether you're after a large hay shed or somewhere to store expensive farm equipment and or stock, even horse stables, we can customise a design to suit your exacting requirements.
All of our buildings are designed with the rugged Australian conditions in mind and with over 170,000 buildings already built around Australia, you can trust in our products.
The options with relation to Farm Sheds are numerous, allowing you to mix and match open bays and closed bays with sliding doors and roller doors. If you have a design in mind our highly trained distributors have the ability to make it happen.
Give us a call today on 0428 363 236 to discuss your needs.
Farm Shed with Open Bays and Enclosed Bays
Combining both security and ease of accessibility a design that incorporates both closed bays and open bays is often ideal for rural applications.
With our specialised MultiBuild design software only available through Fair Dinkum distributors, buildings custom designed like this one can be accurately costed to the dollar in seconds.
All structural members are galvanised BHP steel, ensuring the durability of your shed.
Farm Shed with Sliding Door
Sliding doors have been part of the Australian Shed design for decades and will continue to be so.
They are durable, cost effective and versatile.
Double track and single track options are available and can be added to any Fair Dinkum shed.
Large Farm Shed with Closed-in Lean-to
With clear spans of up to 35m and a length that is really only limited by your available space we are sure to be able to come up with a design that works for you.
Doors, windows, and lean-tos are infinitely customisable allowing you to create the ideal solution for your requirements.
With all fair dinkum buildings purchased you are supplied with a detailed instruction manual and site specific plans for council approval, making the structures easy you or your contractor to assemble.
Large Farm Shed with Garaport
Roof ventilation provides for greater comfort for both stock and / or employees and is available upon request on any Fair Dinkum shed.
Double sliding doors such as those shown improve access and versatility.
Open Garaports are also available to further improve the effectiveness of your new farm shed.
Large Hay Shed
Hay sheds are one of specialties and we have been working directly with Farmers for over 20 years to ensure our products are cost effective and meet there needs.
With the full range of Colorbond colours available but also available in flat Zincalume we are sure to have a building to fit your budget.
Closed bays can be added in any quantity you like to increase security and usability of your structure
Open Farm Shed with One Enclosed Bay
This example shows a fairly typical hobby farm shed with a lockup enclosed bay and two open bays.
This structure could be further customised by adding a drive through Garaport or even a side open Lean-to, the possibilities are almost unlimited.
Internal personal access doors can add further flexibility to your personalised design.