Carports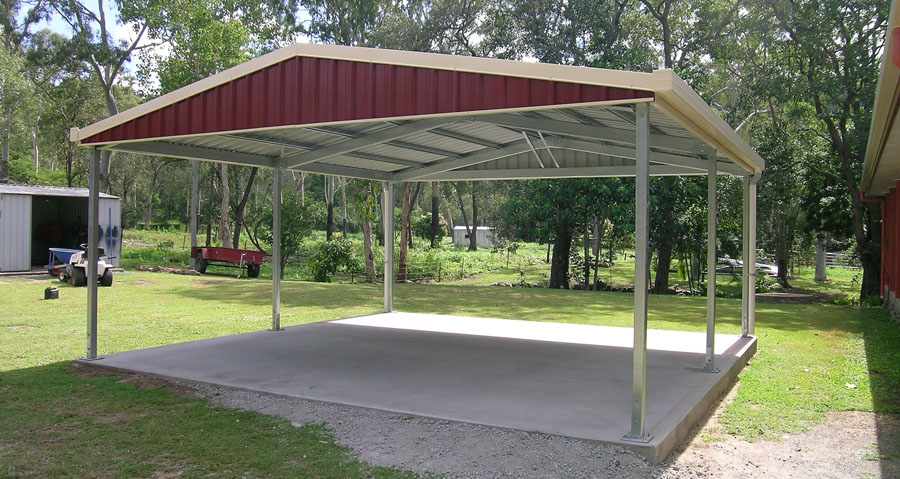 We have steel carports to suit all budgets and design requirements. The Flat Roof carport is the most economical version that can be built in a range of sizes to suit your specific needs.
The Gable Roof carport offers a touch of style and can be used to complement numerous existing garage or house styles.
For the design conscious, we offer the Dutch Gable carport, which is also a great choice for an entertainment area. Our range of Awnings can also be used to create a distinct and effective entertainment area.
Double Flat Roof Carport
Customisable size and colours makes the flat roof an ideal choice for any situation.
1.3m standard front and rear cantilevers allow more room to swing your vehicle in and out.
Fully galvanised frame to ensure the longevity of your investment.
Gable Roof Carport
Gable Roof design optimises member span capabilities to provide wider spans and more versatility than the Flat Roof design.
The example shown has an 11 deg pitch but is also available in 15, 22, 30 and 45 deg to suit the design of any existing building.
The picture shows the gable end clad option that adds a touch of style to the front and rear elevations.
Garage with Garaport
The Garaport addition to your Fair Dinkum shed can be a cost effective and attractive way to increase your storage, workshop and parking area.
Garaports can be added to most existing Fair Dinkum sheds but can also be purchased with the initial building.
Retention of one roof line allows the Garaport and existing structure to blend seamlessly.
Garage with Garaport and Lean-to
This example shows a range of possible options including an attached Garaport and open Lean-to, along with a roller door and two personal access doors.
This example also shows the garage is built on isolated piers which can be a much cheaper option to pouring a concrete slab initially.
Fair Dinkum shed and Carports are 100% customisable and we take pride in meeting your exacting requirements. Though if you need help in designing a structure that is right for you give us a call on 0428 363 236
The Dutch Gable Carport
Create the perfect cost-effective outside entertainment area or classy carport look.
Fits in perfectly with modern house designs that utilise Dutch Gable designs.
Standard 1.3m front and rear cantilever allows for easy entry and exit of the carport.